Dr. Nicholas K. Psichopaidas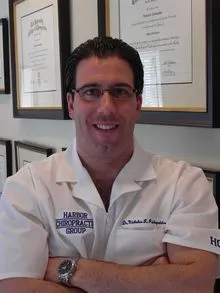 On February 5th, 1974 Dr. Nicholas Psichopaidas was born on his Father's birthday in Stamford, Ct. Within little time his parents relocated to southern Massachusetts to further their quest of serving people. Mr. and Mrs. Psichopaidas have an affinity of serving people with what they do best: cook. Their voyage to America as immigrants was not going to derail them and thus Dr. Psichopaidas took his first steps and continued to grow in the restaurants his parents operated. Furthermore, his parents efforts both work and parenthood instilled in him a sense of sincerity and integrity. As a child he took part in many sports [baseball, football and hockey] but was never far from the family business. At an early age in the restaurant setting he acquired the ability to effectively communicate with others. Dr. Psichopaidas knew as a child that his quest was also to serve people.

Upon Graduating High School Dr. Psichopaidas enrolled in Stonehill College where he obtained a Bachelor's Degree in Biology. Throughout his undergraduate career he spent time in different healthcare facilities, as well as, a summer in the local operating room as an assistant. These experiences allowed him to closely examine the doctor-patient relationship and inspired him to become a Chiropractic Physician.

In 1997 Dr. Psichopaidas enrolled in LIFE Chiropractic College, in Marietta, GA. While in Chiropractic School he became President of his Class, as well as, Vice-President of the American Chiropractic Association Student Chapter. He went on to Washington DC for the Annual Convention of the profession and actively lobbied for both Doctors and Patients on Capitol Hill. While at LIFE Dr. Psichopaidas went on to serve in the student clinics and public outpatient facilities.

After Graduating in 2001 he immediately returned home to serve his community in a way his family has never done. Dr. Psichopaidas went on to be the Founder of THE HARBOR GROUP: Harbor Chiropractic Group Llc., Coastal Rehabilitation Inc., and MedX Neurodiagnostics Llc. The state of the art facility, including digital radiology, computerized exams, custom digital orthotic evaluations, and electro-diagnostic equipment allows Dr. Psichopaidas to maintain his orthopedically based chiropractic practice at the highest level. Over the years he has grown to specialize in treating today's Athlete, Myofascial Pain Syndromes, Fibromyalgia and Secondary Scoliosis Due to Congenital Short Leg Syndrome. Nutritional counseling and the power within are also common conversations in the treatment room. Dr. Psichopaidas has an affinity for motivation and motivational speaking. His hobbies include running, skiing, boating, fishing and flying [he is a licensed private pilot].

Dr. Psichopaidas has been married for 12 years to Christina and they are blessed by their son Konstantinos [Dino].

He currently maintains membership with the American Chiropractic Association and Massachusetts Chiropractic Society. Post-graduate plans include certification in Sports and Orthopedics. He recently was appointed the Team Physician and Director of Medical Staff for the New England College Baseball League's New Bedford Bay Sox.
Education:
Life Chiropractic College - Marrietta, Georgia. Doctor of Chiropractic. 1997 - 2001
Stonehill College, Easton, Massachussetts. B.S. in Biology. 1992-1997
Dartmouth High School 1988 - 1992
Licensure:
Massachussetts - Board of Chiropractic February 2002 - Present
Memberships & Associations:
American Chirooractic Association
Massachussetts Chiropractic Society